Mighty No. 9

Cover Art of the Game

• Development•
Artist(s)
Shinsuke Komaki
Composer(s)
Shinsuke Komaki
Ippo Yamada
• Technical Information•
Release Dates
Windows/PS4/XB1/PS3/Wii U:
June 21st, 2016
XB360:
June 23rd, 2016
Mac/Linux:
August 24th 2016
3DS/Vita:
2017
Engine
Unreal Engine 3
Mighty No. 9 (stylized as Mighty №9) is an action-platform video game by Comcept and directed by renowned producer Keiji Inafune. The creation of the game relied on the online crowdfunding website, Kickstarter. This was the second released game by development studio Comcept, after Yaiba: Ninja Gaiden Z. Mighty No. 9 very closely resembled another series Inafune worked on, Mega Man, in both gameplay and character design and was considered by many to be its spiritual successor. The game's original estimated release date was Spring 2015. However, the game was delayed three times and released on June 21st, 2016 in the United States, and June 23rd, 2016 for the rest of the world.
The minimum Kickstarter goal for Mighty No. 9 was $900,000, and was successfully funded as of September 2, 2013, only two days after the creation of the page. However, further funding was still required to accomplish additional "stretch goals" including extra game modes, levels, and ports for Mac OS, Linux and video game consoles.
Plot
Mighty No. 9 stars an android named Beck, the ninth unit in a set of combat robots called the Mighty Numbers, who were designed to fight in the Battle Colosseum. At the beginning of the game, a mysterious virus causes all robots in the United States to go berserk, with the exception of Call, who was powered off when the other robots went rogue, and Beck. From there, Beck, with the aid of Dr. Sanda, Call, and his creator, Dr. White, travels throughout the United States to cure the other eight Mighty Numbers of the virus using his Xel Absorption abilities.
Gameplay
Gameplay in Mighty No. 9 focuses on 2D platforming. The player is able to run, jump, dash (referred to as AcXeleration in the game) and shoot projectiles at enemies they encounter. Additionally, the player can acquire ReXelections, special transformations, from the eight other Mighty Numbers. The game features eight stages which are freely chosen in any order by the player. At the end of each stage, Beck will face one of the other eight Mighty Numbers units in a boss battle. After completing these eight stages, players must complete three more stages (taking control of Call in one of them) in order to finish the game.
Along with gaining abilities from defeated Mighty Numbers, Beck can also obtain temporary buffs from dashing into weakened enemies. These buffs, referred to as AcXel Boosts (Previously known as Mighty Skills during the game's development) in-game, include enhancing Beck's speed, defense, and combat capabilities.
Development
Mighty No. 9 was announced in a conference at the 2013 Penny Arcade Expo by Inafune and his team. A Kickstarter campaign for the project launched on August 31, 2013 and met its $900,000 USD target on September 2, 2013. Inafune promised to provide "unprecedented access to seeing [his] team at work" over the development cycle of the game. In the video promoting the Kickstarter, Inafune stated he wanted to do a project where he could get fans involved, following the cancellation of Mega Man Legends 3, which sought to get fans involved with the game's development process.
Kickstarter Goals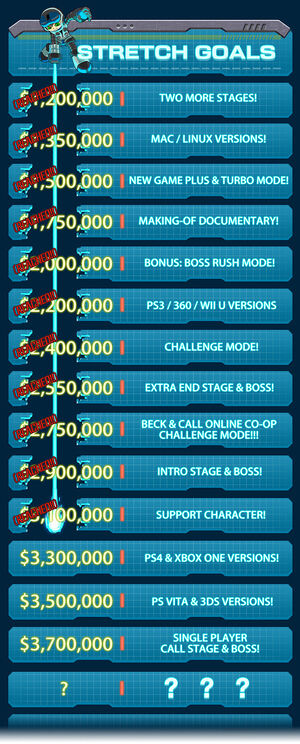 $900,000 USD (Project basic funding): Reached!!
$1,200,000 USD (Two additional stages): Reached!!
$1,350,000 USD (Ports for Mac OS and Linux): Reached!!
$1,500,000 USD (New Game Plus and Turbo modes): Reached!!
$1,750,000 USD (Production of a "Making of" Video Documentary): Reached!!
$2,000,000 USD (Boss Rush Mode): Reached!!
$2,200,000 USD (Ports for Playstation 3, Xbox 360 and Wii U): Reached!!
$2,400,000 USD (Challenge Mode): Reached!!
$2,550,000 USD (Extra End Stage & Boss): Reached!!
$2,750,000 USD (Beck & Call Online Co-Op Challenge Mode): Reached!!
$2,900,000 USD (Intro Stage & Boss): Reached!!
$3,100,000 USD (Support Character): Reached!!
$3,300,000 USD (Ports for Playstation 4 and Xbox One): Reached!!
$3,500,000 USD (Ports for PS Vita and 3DS): Reached!!
$3,700,000 USD (Single Player Call Stage & Boss): Reached!!
Release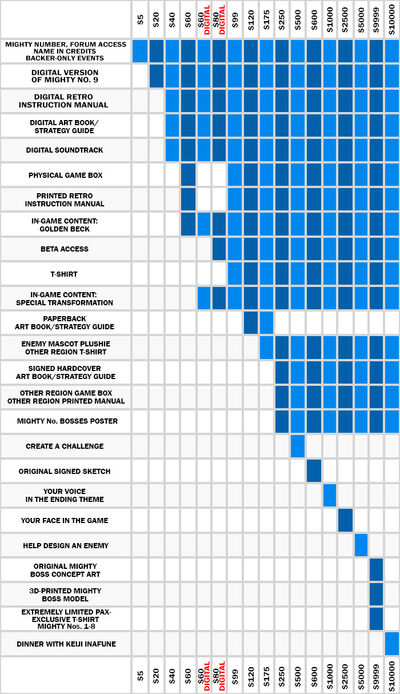 Pledging twenty dollars on Kickstarter guaranteed a backer a digital copy of the game at release. Pledging at least forty dollars would additionally give a backer digital copies of the game manual, artbook/strategy guide, and the original soundtrack. Sixty dollars would make the aforementioned rewards physical, and packaged inside a box adorned with art of the backer's choosing, alongside a playable golden version of Beck. Further donations would give access to special items from extra bonus content and exclusive merchandise to the right to take part in the game's development. Backers who donated at least $10,000 USD would earn the right to attend a dinner with main creator Keiji Inafune himself.
Although the game was exclusively in development for Microsoft Windows (releasing on Steam and other DRM-free markets), the PlayStation 3, Wii U and Xbox 360 also received the game simultaneously due to over-funding (i.e. through stretch goals). Mac and Linux platforms were also considered "high priority, but only if [they] can afford them via stretch goals". A Nintendo 3DS release was also possible, and the co-founder/director of Renegade Kid, Jools Watsham, offered to assist in development. It was also possible to get PS4, Xbox One and PS Vita versions, since the stretch goal was funded.
On April 28th, it was revealed the game would be delayed from Spring 2015 to September 15th for US and 18th for the rest of the world. This was because of the publisher "Deep Silver" helping on the game to add extras such as French and Japanese voice overs and other language subtitles. This was accompanied by a physical release for PS4, Xbox One, and Wii U for $30; the digital version was $20. The retail release automatically contained the Ray DLC, which was also free for all of the Kickstarter backers. [1] On January 25, 2016 however, it was announced that the game would be delayed again to February 9th, 2016 due to issues with the online component. The game was delayed once again to June 21st, 2016, over a year after the first delay, due to the online features.
Reception
Mighty No. 9, while a fun game, didn't sit well with a lot of fans. Most fans, (possibly not knowing about the game's development) called it a "rip-off" of Mega Man, leading to backlash and rants on YouTube and other social media sites. Even after the game's release, some fans still didn't like it that much, due to technical issues the game had, such as sudden framerate drops[1]. Overall, reception of Mighty No. 9 was mixed, but mostly negative.
IGN: 5.6 (Mediocre) [2]
"Charmless and full of poorly-executed ideas, Mighty No. 9 fails to entertain despite its legendary pedigree."
Metacritic: 52 [3]
Ragequit.gr: "Mighty No. 9 is not a tragedy of a game. It plays mainly as a nostalgia act of an old era, ignoring ostentatiously the more advanced gameplay mechanisms of the modern action/platform games. If you know what to expect, you will not have a bad time. Otherwise, it would be better to stay away." [3]
Trivia
External Links
References
[1: Mighty No. 9 Playthrough "You froze my framerate!" by DSPGaming]
[2: IGN Mighty No. 9 Review: "The soul of Mega Man is nowhere to be found here"]
[3: Metacritic Review of Mighty No. 9]
Cite error: <ref> tags exist, but no <references/> tag was found
Community content is available under
CC-BY-SA
unless otherwise noted.